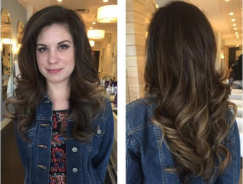 01 Sep

Preserve Your Blowout by The Hair Bar Stylist Emily Kittrell

Preserve Your Blowout by The Hair Bar Stylist, Emily Kittrell
Step 1: Remove any product buildup by cleansing your hair with Kerastase Bain Volumifique and then rinse out.

Step 2: Apply Styling products:

-Use Kerastase Curl Fever…this product is great for creating curl and keeping your hair from going flat.
-Use Kerastase Volumifique Mousse…when applied properly, the hair will have body starting from the roots.
-Use Kerastase Form Fatale…allows the hair to have memory which holds the curls longer.
-Use Kerastase Discipline Keratin Thermique to protect the hair to up to 450 degrees as well as prevents frizz leaving the hair with a smooth finish.

Step 3: In order to have a blowout that is full of body and movement, I create round brush curls with a medium sized Nano Thermic Ceramic Ion Round Brush. I use this round brush because it heats the hair from inside the brush which cuts down on drying time.

Step 4: Once the style is complete, flip the hair back and spray with a medium hold hair spray. I suggest Kerastase Laque Couture because the hold is phenomenal without leaving the hair feeling stiff.

Step 5: To preserve your blowout for an extra 1-2 days, use Kerastse Powder Bluff  dry shampoo. This product is an aerosol which means it won't feel like there is powder on your roots. Spray each section of the roots and wait a few minutes then shake it out. Let the product sit on your roots. It will then dissolve any excess oil leaving your hair fresh and clean.

All Kerastase products sold at The Hair Bar.

Visit www.dropinblowout.com or call their two locations at:

Dallas-214-369-HAIR & Southlake-817-442-5111 to book an appointment.